Monthly Archives: March 2008
Last October DB and I ran the 5km race that was part of the Amsterdam Marathon event. I was suffering shin splints at the time but ran anyway, and afterwards had to lay off running for 2 months. Since January I've been more or less building up slowly, from ground zero, to be able to run 5km (and then more). Today was the Ladies 5km race in Zandvoort and I made it! No leg pain, no problems at all. I will know my official race time tomorrow after they post it on the web site. I think it will be faster than the one in October.
The day started out with miserable rainy weather and I was afraid we'd have to run in the rain. I ran this with DB's sister I., and I said that if she calls and says she doesn't want to go, then that's ok with me. But she was really up for it, so the 3 of us went despite the weather. And you know what? It rained all days EXCEPT for the 30 minutes that we ran. How about THAT! We ran on the Formula 1 racetrack, which was kind of cool. It was fun to imagine those fast race cars going up and around the banked curves. Instead we were a long snake of women of all ages and sizes.
Here are some photos from the day. A couple I took with my phone, a couple DB took from the sidelines.
The warming up before the race itself:
Along the route:

The long snake of runners:

I finished my first Pomatomus sock. Do your feet look like this?
I thought not. Mine neither. I really don't understand taking a beautiful pattern like this one and finishing it off with toes that just don't make sense. Maybe it's just me. Maybe it's just my Birkenstock feet (or Loint's feet) but my toes don't point. Definitely not in the middle.
After asking around on Ravelry, and reading a little bit, I decided to create my own personal toe pattern. Here's what I did.
First, I put on the sock and measured the gauge on the under side where it is just st. stitch. I had 8 stitches and 11 rows to the inch. Then I went to this site that creates graph paper for you to whatever gauge you have. It's really handy! Then I marked out the number of stitches I had on half the sock (32) and the number of rows that would take me to the top of the toe (25). I still figured that the overall length was right, just the shape was wrong. Then I put the paper on the floor and put my foot down, lining up the base line with where the toe part of the sock starts. I drew a line more or less around my toes. Here's what I had at that point:
Then I charted it out into something you could knit. I was careful to have it make sense, like not having 3 rows between decreases, then 2, then 3. I made it the standard "decrease every 2 rows, then every 1 row" kind of thing. Here's what that looks like:
I couldn't wait to knit it up and see how it fit! I did just that this afternoon and wow am I happy I did this. The socks fit perfectly now and are anatomically correct for ME. I'll have left and right specific socks in the end. When I knit the second sock I just have to reverse this shaping. Is the photo above good enough that you can use it too? If so, feel free! If not, let me know and I'll make a bigger version online. Here's the final result:
I'm 90% sure that this will be the last Amsterdam snow photo for this year.  I took this one with my phone, while walking from the train station to the office, Tuesday morning.  Nice, huh?  It was funny to hear the squeak squeak of my shoes on the snow.  Snow is hardly ever that dry here.  It was really skiing snow!
The following photos were taken yesterday, Easter, but they could have just as easily been taken today.  This morning we biked to a friend's house for brunch (lovely party P.!).  We tried to bike in between snow flurries and nearly made it.  We did manage to bike back home in sunshine.  It was a strange weather day – one minute the sun was shining and the next minute it was snowing again.  Biking home I told DB it felt like we were on a ski vacation!
I like the following photo because it is a funny combination of white snow on tree branches and white lines painted on the street below:
I like the next photo because of the red new growth of Spring and the snow of Winter.  It is hope in the time of cold:
And even in the lousy weather, people are out and about in the neighborhood:
But Bas has the right idea – find a warm spot, curl up, and wait it out:
This morning I got up and discovered there was still snow on the ground from the night before:
We didn't get a white Christmas, so we got a white Easter instead.  Very strange.  Global warming?  I wish!  DB told me last night that this weekend is the kick off of festival season in NL.  It opens with PaasPop.   Granted, Easter is early this year which means an early festival, but who wants to camp out in a cold wet field, go stand in line for beer in the cold and wet, and stand in tents to listen to music?  No one but real die-hards, that's who.  It's bad enough when you go to a festival and it rains, but at least it's not that cold in the middle of the summer.  I will pass on PaasPop.
Have you wondered how we came up with the name Easter in English?  I have, especially since moving to NL and Dutch people are constantly saying "Have a nice Eastern" or "What are you doing on Eastern?".  I have no idea why they turn Easter into Eastern, except that the word Easter has no other context or meaning for non-English speakers.  I'm sure they think "Easter" as a word could never be correct.
After Googling around a bit, I found a reasonable explanation of the word's etymology at the Goethe Institute site.  I also discovered that there are a lot of web sites out there that sound like they know what they are talking about, but in the end I don't think are complete or really true.  Just goes to show, once again, that you can't believe things just because someone puts up a very professional looking web site!  Don't believe everything you Google!
After reading a bit, I guess it's not so strange that Dutch people say "Eastern" for "Easter" because in the end the words have the same root.  Sometimes the simplest explanation is the truest.
Anyway, Happy Eastern, and enjoy your chocolate fertility symbols!
Fiets is Dutch for bike.  It's pronounced "feets" which makes the word easy to remember since you make a bike go with your "feets".   My fiets is on the front page of my blog.  It's also my avatar on Ravelry.  So you could say that fietsen (plural fiets) are pretty important around here.  There are more bikes in the Netherlands than people.  You cannot go a day without seeing a bike.  It's impossible.  The photo below is from Brian and you should really check out his page of photos taken in Amsterdam.  He's an American who was just fascinated by the bike riders here.  I laughed out loud at some of his comments.  I see these things every day – no big deal – nothing to write home about.  But apparently I've just been here too long because it IS something that others want to write home about!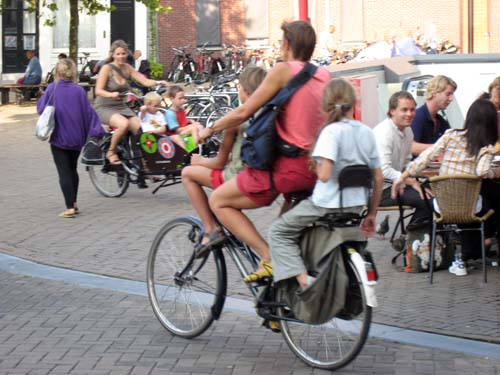 What Brian missed was taking photos of people biking in winter.  People wearing rain ponchos on a bike.  People trying to carry an umbrella while biking (stupid and dangerous if you ask me).  People with Gortex, rain pants, and boots biking in all weather (me).  Biking in the wind, that always seems to be against you.  Biking with your kids in the bakfiets now covered with the plastic rain top.  Biking is transportation, not recreation.  And speaking of rain, it's been really cold and miserable here lately.  Yesterday it snowed really hard for about an hour.  None of it stuck to the ground – it wasn't quite cold enough for that – but still!  It's supposed to be Spring!  One day last week I was biking to work and stupidly forgot my rain pants.  I was almost to the office, just 4 minutes away, when the skies opened up and dropped buckets of wet all over me.  I arrived with wet jeans.  Do you know how awful it is to sit at your desk for 3 hours with wet jeans, waiting for them to dry on your cold legs?  Ugh.  The joys of biking….
I while ago, on my retired blogger blog, I wrote a bit about why tourists should NOT rent a bike when they visit Amsterdam.  I still stand by that statement.  They have no idea what they are doing and are causing havoc on the streets!   There's enough havoc on the streets with aggressive Amsterdam bikers!
You know the expression, March comes in like a lion and goes out like a lamb?  Well, it's mid-March and it's still a lion here in NL.  It sure felt like that all day at work today.  We've recently moved into a new office building and they are still sorting out the environmental issues like heat and cold.  It was cold.  All day.  People were walking around in their coats.  That's no way to treat your most important company resource – PEOPLE!
Here's a photo I took from my desk.  You can see a bit of reflection of the other windows.  It was about 5:30pm.  All the construction below will one day be high rise buildings and we will lose our lovely view.  I'll enjoy it while I can.  You can see the central station on the right, and the tops of St. Nicolaas Church in the middle of the photo.
Anyway, biking home today, after being cold all day, I realized that the weather had become even colder during the course of the day.  It might even snow tonight.  I decided to stay home tonight and not make SnB night.  I just want to be warm for the rest of the day!
Sundays should be for sitting around in your pjs until late, reading the news (paper or online) and watching sports on tv. This Sunday, today, was for paperwork and taxes. Yes, that time of year again and we really needed to get it done. Taxes in NL are very easy to file, electronically, a few questions and you're done. DB hates it though. He filled in the e-form, cursing every screen and question. Of course in the end it took about an hour in total, and we get a nice sum back from the gov. The belastingdienst (Dutch version of IRS) is running several commercials on tv which are very cute. Their theme is "we can't make it nicer, but we can make it easier". I can't imagine the IRS ever making the effort to have a more friendly face to the public. My view of the IRS is a big monster who will eat you up if you step out of line. The belastingdienst is a much more cuddly animal. Anyway, it's done for another year. Next year we will hire someone to do it for us since we are selling one house and buying another and that's just a little too tricky to figure out flawlessly.
In other news….
I have to go out running in the park today. I have to. It's raining. It will be raining all day. But I have to go. In 2 weeks time I have to run a 5km (3 mile) race and I'm not yet prepared. I won't be prepared in 2 weeks, but I'll do my best. Last week I only ran 1 time. That's bad. But I've been working longer hours and the weather has just sucked this last week. Both work and weather have conspired against me. But I will be tough and go out there when I'm finished with this post.
On the knitting front…
Here are 2 photos of my progress with Pomatomus. It's lovely, isn't it? I really admire the designer of this sock. How did she come up with this? The yarn is really nice too. It looks like the ocean on a stormy day – blue and green and purple. I'm really enjoying making this. The pattern calls for 3 repeats down the leg but I only did 2. I have short legs and I like this length on me. You can see I've started the heel flap at the top.
I'm also starting to figure out felting and getting ready to design my own felted bag. I made a few swatches last night and threw them in the wash with the laundry this morning. I have a front loader, so I can't pull anything out to check it during the cycle. I was happy to see that the swatches didn't felt too much – they look just right. The yarn is quite fine (like sock yarn) so I have to play around with swatches some more before settling on the best method to make a sturdy bag fabric. The middle piece was knit with a double strand in linen stitch. It's perfect for the sides and strap of the bag. The single st. st. on the right is just too thin for the main body of the bag. Maybe with color stranding in the back it will be better. I'll get back to you on that….
As you might know, dear reader, we are preparing to sell our house and move to Haarlem.  In 2 1/2 weeks we have to be prepared to show our house to prospective buyers.  We are starting to get ready.  Today we went to Praxis (btw, if you live near Amsterdam, the big Praxis between the A9 and IKEA is really nice!) and bought a little paint, some wood glue, some flowers for the roof terrace to fake it like it's nice weather, and THIS…
Not the knitting needles of course, but the little tool box.  I'm getting my knitting tools organized.  Finally after about 10 years of carrying my needles in a big plastic COOP shopping back from Geneva, I'm finally putting them is some kind of order.
You realize, this is just a delaying tactic to avoid doing the REAL work in the house.  I think it's all going to catch up with me soon and next weekend (the long one) I'll be up all hours of the day and night cleaning and organizing and painting and stressing.  That's what moving is all about!
Last night was the SnB night in de Jaren in Amsterdam.  There were 5 of us in total:
4 Americans; 1 Dutchie
3 Ravelry addicts; 2 uninitiated
4 who live in Amsterdam; 1 who lives in Maine
3 knitting socks; 2 knitting something else
It was a very enjoyable evening.  I imagine the horrible weather kept others from coming out.  Three of us (and you know who you are) started talking about patterns on the internet, and Ravelry, and blogs, and in the end we wrote down links and info for poor Kathy who will soon be addicted to Ravelry too.  We are enablers.  Good luck Kathy!  I hope you have broadband!